Reconditioned cylinder heads for sale

Leading UK supplier of Land Rover & Range Rover Engines
Turner Engineering supplies cylinder heads for Land Rover Series 2A, Series 111, Defender, Discovery and Range Rover.
Land Rover cylinder heads including Defender 2.4 / 2.2 , TD5, 300TDI, 200TDI, V8, 2.5 turbo Diesel, 2.5 Petrol etc, Petrol and Diesel. 1958 to date. inc-parts sales.
All below listed cylinder heads can be purchased on or off line
Most cylinder heads are available to purchase outright sale for export.
Some early heads are customer's own cylinder head only
All Petrol Cylinder Heads are re-manufactured to run on Lead Free Petrol and will also run on LPG.
Prices are ex VAT - ex Works
WARRANTY - All Cylinder Heads are supplied with a 12 months unlimited mileage written warranty
---
DEFENDER/DISCOVERY/RANGE ROVER DIESEL CYLINDER HEADS
---
Defender 2.2 Puma and 2.4 Duratorq Cylinder Heads
Brand new Ford Puma and Duratorq cylinder heads available assembled with valves and springs.
TD5 Cylinder Heads
AMC heads complete with valves and springs assembled. Turner Engineering recommend AMC TD5 cylinder as the casting is significantly improved from the original Land Rover TD5 cylinder head. The injector socket wall thickness is twice that of the original Land Rover supplied cylinder heads. These cylinder heads have proved to be 100% reliable over many years as the inherent defects have been overcome. No more cracked injector sockets allowing diesel into the engine oil. Early type heads have internal fuel galleries whereas the later type includes an external bypass of one of the galleries.
For any addtional parts you may need to refit your TD5 cylinder head, please feel free to browse our
TD5 Parts
page.
---
RANGE ROVER/DISCOVERY PETROL CYLINDER HEADS
---
Rover V8 Cylinder Heads
New complete cylinder heads assembled with valves and springs, available for Range Rover and Discovery Rover V8 engines. Secondary Air Injection (SAI) are typically found on American market 4.6 V8 engines or late Discovery 4.0 European market engines. If you in any doubt about which product you require please
Contact Us
.
For any additional parts you may require to refit your new Rover V8 cylinder heads, please feel free to browse our
4.0 & 4.6 V8
or
3.5, 3.9 & 4.2 V8
engine parts pages.
200 & 300 Tdi Cylinder Heads
Turner Engineering sell a range of new AMC cylinder heads for
2.5 and 2.8 litre 300 Tdi engines
, including standard spec and
gasflowed high performance
options.
Please be aware that new 200 Tdi cylinder heads have not been available from Land Rover or elsewhere for many years and are remanufacture of customer's own unit only. Please feel free to
Contact Us
for more information.
---
90/110/DEFENDER
---
2.5 NA, 2.5 Turbo Diesel and 2.5 Petrol
2.5 Petrol cylinder heads have metric threads and come assembled with new valves and springs. Standard lead free and lead free gasflowed cylinder head options are available. These heads will also fit later series III 5 MB engines (from engine No.s 36123672B & 36407286B) and 90/110 2.25 5MB Petrol engines. If you are unclear on what cylinder head is appropriate for your vehicle please feel free to
Contact Us
and we will help you select the correct cylinder head.
2.5 Diesel NA and Turbo Diesel cylinder heads come assembled complete with new turbo diesel valves, springs & precombustion chambers, ready to fit to your vehicle. This avoids the inconvenience of having to determine correct valve depth and precombustion chamber specification/height.
---
SERIES 11a/111
---
2.25 Petrol / 2.25 Diesel
2.25 Petrol cylinder heads are fully remanufactured complete with new valves & springs assembled and are of an imperial thread format. Options available include standard lead free or lead free gasflowed performance. Performance versions include gasflowing of both inlet & exhaust ports. Gasflowed cylinder heads are intended to improve efficiency and fuel economy. In practice this manifests itself as improved response to the throttle and the ability to pull higher gears at lower rpm.
Customer's own unit or exchange subject to receipt of serviceable cylinder head only - Offline order only please
Contact Us
for more information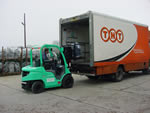 Prices are ex VAT - ex Works
All cylinder head options usually in stock.
DELIVERY
- UK overnight delivery. Air, sea and overland world wide. As a result of improved courier services we offer an exchange service to Europe.

Most major credit cards accepted.
All sales subject to English Law.
Trade - Export prices available - POA